Myeloma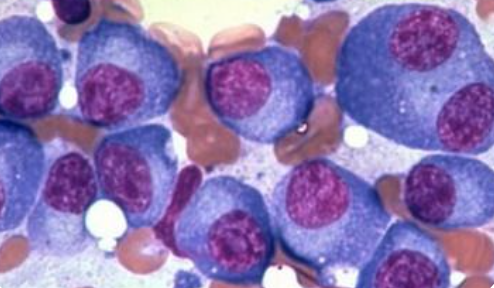 Multiple myeloma is a form of blood cancer which is responsible for approximately 2% of cancers in the UK. The incidence of myeloma increases with age with the average age of diagnosis being 67. It is currently incurable although there have been significant improvements in outcomes over the last decade due to more effective treatments, resulting in a longer life expectancy.

Complications of myeloma can include low blood counts, infections, bone disease and kidney failure (end organ damage). Myeloma can be diagnosed on routine blood tests but can also present with features of end organ damage in an acute setting. Successful treatment aims to prolong life and maintain quality of life with patients frequently having periods of time on and off treatment.
Aims of the NIHR HIC
This NIHR HIC theme is focusing on collecting real world data from people living with myeloma in the UK. Data collected will include diagnostic practices and treatment regimens, in addition to other factors that may have an impact on overall outcomes and well-being. Collecting real world data is becoming increasingly important in many key areas of cancer care. Examples of this may include reviewing the overall provision of care for this patient population, helping newer drug treatments secure long term NHS funding and access to clinical trials. This theme has been established with the support of Myeloma UK, the national charity for patients in the UK living with myeloma, who understand the vital role real-world data has in improving outcomes in addition to ensuring the patient perspective is represented. Further information about the themes partnership with Myeloma UK is available here.

The NIHR HIC Myeloma theme team will develop a research database of in effect anonymised real world data to be used as a resource by approved researchers, academics and medical professionals working within the myeloma community for the benefit of patients living with myeloma in the UK. Full ethical approval has been awarded as part of the project and further information around governance within the NIHR HIC is available here.
Collaborating centres
University College London Hospitals NHS Foundation Trust (Lead Centre)

Oxford University Hospitals NHS Trust and Oxford University (Clinical Lead)

University Hospital Southampton NHS Foundation Trust