Critical Care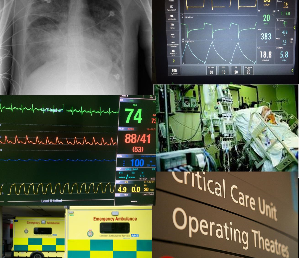 A critical illness is any illness that may be a direct threat to life, for example:
Serious infection such as pneumonia or meningitis
Major trauma such as a serious road traffic accident
Serious stroke or heart attack
Following major surgery
Critically ill patients are usually cared for in Critical Care Units, Intensive Care or High Dependency Units staffed by specialist doctors, nurses and therapists with access to high levels of monitoring (such as continuous blood pressure and oxygen levels) and treatments that allow the critical care teams to rapidly detect and respond to any deterioration.
Critical Care has become increasingly sophisticated over the years and patient survival and outcomes have improved. However less is known about survival beyond hospital. Research as to what treatment works best is difficult, as there are not enough patients with the same critical illness from which to draw significant conclusions. Even with large studies, there is too much variation to always be helpful.
A number of important questions remain unanswered about people who have been treated in critical care. For example:
Does a critical illness have an impact on life span?
If there is an impact, is it greater for those having had an infection or following a major accident?
Do survivors require more input from hospitals following discharge and how long is that input required?
Aims of the NIHR HIC
The Critical Care theme within the NIHR HIC aims to bring together data for analysis and interpretation to help identify what is known about survival outcomes for people who have received critical care. This will help us to:
Better understand critical illness and the long term effect of our treatments so we can tailor these treatments to individual patients
Improve our understanding of the long term consequences of multiple organ failure and treatment so patients have a better quality of life once discharged.
Participating Critical Care Units display posters about this project and information leaflets are given to all patients (and if appropriate next of kin). A brief video explaining what is involved for those who participate can be viewed in the critical care video
Further information
For further information about the activities involving the public and patients, please visit the NIHR UCLH BRC.
For research queries contact: Dr David Brealey, Consultant in Intensive Care Medicine and UCLH Critical Care Research Lead, via nihrhic@uclh.nhs.uk.
You may also find further information via the following links:
Lead centre:
University College London Hospitals NHS Foundation Trust