Cancer: Breast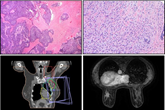 Breast cancer is the most common cancer and accounts for 15% of all new cases of cancer in the UK (source: Cancer Research UK 2013)
The NIHR HIC breast cancer theme is led by Dr Elinor Sawyer from Guy's and St Thomas' Hospital / Kings College London and Dr Richard Baird from the Cambridge Cancer Centre. They are working with other breast cancer experts in the UK through their BRCs Centres and the NIHR HIC to securely and anonymously share key information on breast cancer diagnosis, treatment and outcomes.
Aims of the NIHR HIC
There are different subtypes of breast cancer that can be categorised by tumour grade, hormone receptor and Her2 expression. The NIHR HIC breast cancer theme will look at the frequency of these different subtypes of breast cancer across the different BRCs to assess whether there is any evidence of an association of certain subtypes with ethnicity and age and whether these two factors influence the type of treatment given or the stage at which the cancer presents.
The NIHR HIC breast cancer theme will also develop tools to analyse mine radiology and histopathology text reports to help establish a robust database on patients with metastatic disease to assess outcomes across the Biomedical Research Centres. Having done this the theme will investigate how many patients are being entered into trials and the use of novel treatments from the cancer drugs fund, and assess response rates to these newer agents.
Lead centre:
Guy's & St Thomas' Hospital NHS Foundation Trust