Cancer: Ovarian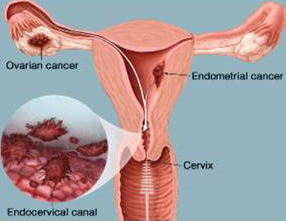 In 2011, the ten year estimated survival rate was only 35% following diagnosis. As with most cancers, an earlier diagnosis results in a better outcome. Ovarian cancer is the fifth most common cause of cancer among women in the UK. Cancer Research UK (CRUK) estimates that 19 women each day are diagnosed with ovarian cancer.
Dr James Brenton, of the CRUK Cambridge Cancer Centre, is working with other ovarian cancer specialists, to share key information on ovarian cancer in order to make recommendations about how diagnosis and treatment can improve survival for women with this type of cancer.
While ovarian cancer is a big health concern in the UK, the number of women looked after at any single NHS facility is too small for reliable studies of the population. Treatments may also differ between hospitals, and it is therefore very important to gather data from different places to understand the best treatments and other factors for long-term survival.
Aims of the NIHR HIC
The specific objectives from the NIHR HIC for treatment of ovarian cancer are to:
Securely and anonymously collect and share data on ovarian cancer patients
Review what information we already have on ovarian cancer and see if they can add to the overall picture
Evaluate how ovarian cancer surgery is carried out and determine which of the different methods best achieve the expected outcomes, eg reaching the five year survival, reducing a recurrence of ovarian cancer, and slowing down the progression of the disease
We aim to keep everyone who is interested in this area up to date and informed of the progress we make. Currently all participating sites have adopted the same process of collecting data on ovarian cancer from initial diagnosis to discharge and beyond. The data that is gathered cannot be linked to the identity of a single patient. Cambridge University Hospitals NHS Foundation Trust (CUH) has established a secure location for receiving the data from each participating site, and for storing and analysing this information on behalf of the NIHR HIC.
Lead centre:
Cambridge University Hospitals NHS Foundation Trust