Renal Transplantation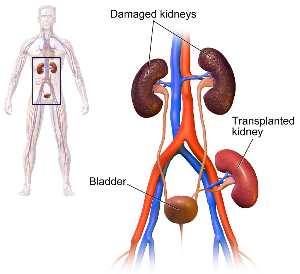 Renal Transplantation is the largest of the solid organ transplant programmes with around 3,000 performed annually in the United Kingdom. It is the optimal treatment for patients with end stage kidney disease in terms of survival, quality of life and economic advantages. The limited lifespan of the transplanted kidneys means that multiple transplants are often required which places a burden on patients and restricts the availability of organs for all suitable recipients.
A kidney transplant offers the best treatment for patients with kidney failure, offering better quality of life and survival over long term dialysis, as well as being more economical in the long term. In the United Kingdom, kidney transplantation is the largest of the solid organ transplantation programmes. with over 3000 being performed per year.
A number of barriers to success still remain. Firstly, the number of patients on the waiting list exceeds the number of available organs, leading to strategies to increase organ availability, including widening of criteria for suitable donors and better organ preservation. Unfortunately, a transplanted kidney also has a limited lifespan, with an average life of somewhere between 15-20 years depending on whether the donor was living or deceased. This results in many, particularly younger patients, requiring multiple transplants throughout their life. This is complicated by the fact that it becomes increasing harder to find a match once patients have had a previous transplant.
Recipients of solid organ transplants are also required to take anti-rejection medication for the life of the transplant but this has its own issues, resulting in increased rates of infection and cancer as well as other drug specific side effects. At present monitoring of the transplanted kidney relies on non-specific measures of kidney function with little detailed information to help guide clinicians as to how much anti-rejection medication a particular individual needs, resulting in a reactive rather than proactive approach.
The outcome following a kidney transplant is determined by a complex interplay between a number of factors. It is therefore an area ripe for a more personalised approach in terms of treatment.
In order to better understand the role of specific factors in outcome and carry out translational research in this population, it is important to have high quality clinical data from kidney transplant recipients. As well as allowing research, information on outcomes will also allow clinicians to better inform of patients undergoing transplantation
The NIHR Health Informatics Collaborative (HIC) Transplantation Theme is led by the Comprehensive Biomedical Research Centre at Guy's and St Thomas' NHS Trust and King's College, London. The other BRCs currently taking part are:
Cambridge University Hospitals NHS Trust and Cambridge University

Oxford University Hospitals NHS Trust and Oxford University

Imperial College Healthcare NHS Trust and Imperial College, London.
Together a database of nearly 8000 recipients transplanted at these centres since 2010 has been created. Involvement from other renal transplant centres would be welcomed.
Exemplar Project
In order to demonstrate the utility of the dataset, an exemplar project to determine the incidence and factors contributing to the development of glomerulonephritis in transplanted kidneys is being carried out. This project specifically makes use of the collaboration and large dataset given the incidence of a specific glomerulonephritis is relatively low. Preliminary results were presented at the American Society of Transplantation Annual Congress in Seattle in June 2018.
The ongoing plan is to develop further projects using the dataset allowing further enrichment of the dataset.
Further information
If you would like further information please contact us by email at brc@gstt.nhs.uk. For further information on renal transplantation and related research, you may find the following links useful:
Lead centre:
Guy's & St Thomas' Hospital NHS Foundation Trust